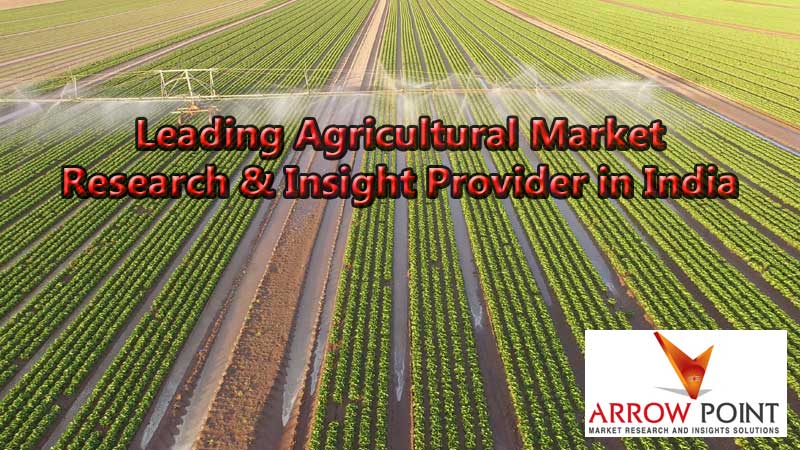 04 JUNE 2018
Leading Agricultural Market Research & Insight Provider in India
Arrow Point is the top provider of agricultural market research services in India. As a complete market research agency, we are able to provide our clients with key information in multiple agricultural areas.
Arrow Point is one of the leading agricultural market research companies in the top cities of India like Chennai, Bangalore, and Mumbai. Arrow Point has identified an excessive amount of opportunities for global companies. The best business consulting company Arrow Point India has successfully undertaken strategy consulting assignments in the field of various crops and vegetables, Agri services, Pesticides, Animal Health, Poultry, Herbicide, Fungicide, Trade and more. The agriculture industry has been widely exposed to international trends and has shown considerable adaptability to change and mechanization.
In India, crop losses due to pest attack are among the top in the world, while pesticide usage is among the lowest which stands at 381g per hectare as against world average of 500g. Whether it is transgenic seeds, specialty fertilizers or new generation pesticides; Arrow Point India has enabled clients to grow rapidly in this diversified and dynamic Indian market.
There is a very significant opportunity emerging in mechanized farming, cooperative farming and in the smart usage of modern consumables. The farmers' expectations are changing, aspirations of dealers and retailers in the farming sector are changing, the channel of distribution is becoming critical and there is a clear differentiation of market experience in different pockets of India. The farmers are getting an opportunity to use and experience new products.
Arrow Point offers expert solutions in the Agriculture sector. Our services include a wide array of studies on various crops and vegetables, Agri services, Pesticides, Animal Health, Poultry, Herbicide, Fungicide, Trade and more. Along with the farmers, inputs from channel analysis and the influencers are also a part of this study.
For every project, the method varies because these are all customized research analysis. The market research agency in India, Arrow Point has helped out in setting up new projects, in acquisitions, in testing new thoughts, in evaluating markets and brand equity, computing customer satisfaction as well as in conducting pre & post launch studies in India and across the globe. Arrow Point has also conducted coursework in the expansion of existing businesses.
Opportunity Analysis
The history of business is spilling over with great thoughts that should have been actively adopted but failed to get off the ground because of limited market demand. And of course, there are other thoughts for which demand existed, but production and distribution costs resulted in a price position that the market deemed too high.
Agricultural market research takes a practical, ordinary look at the feasibility of introducing a new product or service in the market, and verifies whether it will be gainful and sustainable.
Selling an Idea
While having a feasible idea is clearly critical because that idea has to be sold to clients in a successful way. For instance, if new software that helps farming operations track, examine, evaluate and compare their list of logistics providers, then the presentation to sell it will normally involve a demo, and perhaps a free trial that proves value. The price position must also be tactically chosen to ensure that ROI is achievable within a practical timeframe. Agricultural market research helps uncover all of these details, and ensure that innovative products and service will profitably sell in a competitive marketplace.
Analyzing the Competition
Agricultural research is also needed to shed light on what the competition is doing, and particularly, what investments they are making in everything from product development to marketing and advertising. A SWOT exercise cannot make known many of the serious details and nuances that make a thoughtful difference between smart and informed decision-making and heading down the wrong road.